A set of adorable Floridian triplets have become an online viral sensation. Their close friendship with their local garbage collectors have gained them thousands of fans across the globe.
Heaton, Wilder and Holden are the four-year-old triplets of TV anchor Martha Sugalski and husband Robert Reich.
They just so happen to be best friends with their neighborhood garbage men Andrew Black, Rob Whitmore and Chad Cover.
Every Tuesday and Friday morning, the cute toddlers eagerly await their friends in their driveway.
They get so excited 'they jump up and down,' mom Martha told Inside Edition.
Millions of people follow Martha on Facebook and love watching the triplets excitedly run up to the garbage truck with donuts or a bottle of Gatorade.
The men then share hugs and hi -fives with the triplets as they help them take away their trash.
The heartwarming friendship between the twins and their garbage collectors has existed for nearly their entire lives.
The triplets first came to the garbage collectors' attention after seeing them going for walks in a stroller with their mom. 'Every week, we'd see the truck, and they'd wave and honk. After a while, they got out and started talking to the babies,' says Martha.
Soon the triplets were looking forward to every chance they could to say hello to the hard-working garbage men.
Eventually, Martha began sharing stories and videos documenting her kids love for their garbage collectors on her Facebook page.
The kids affectionately call them 'Mr. Chad,' Mr. Rob,' and 'Mr Andrew.'
The love is completely mutual as the garbage men care so much about their biggest fans they always make sure to spare five or ten minutes every 'Garb day' – as the triplets call it – to hang out.
Martha and her triplets also keeps track of Mr. Chad's DJ career outside of his garbage collecting job, looking out for gigs he plays on the weekends.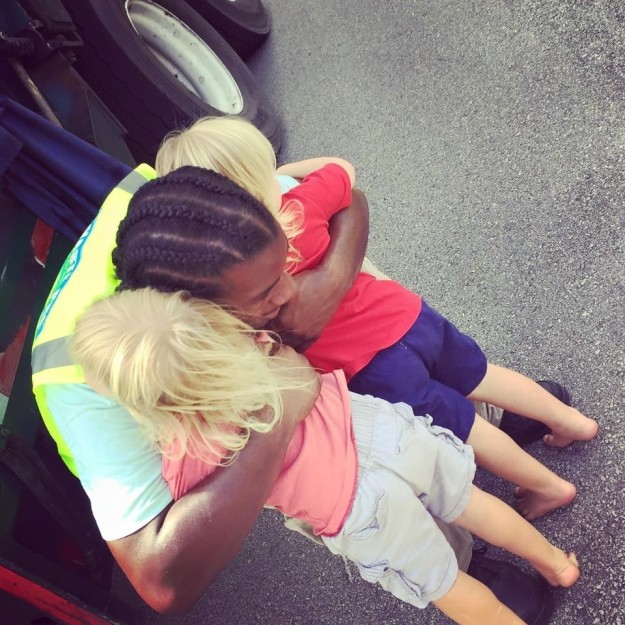 Unfortunately, Mr. Rob and Mr. Chad's route has changed and they no longer collect the garbage on the triplets street.
But whenever the guys have a spare moment they are sure to come by and see their friends. '
'It's really just developed into a friendship. We care about these guys,' said Martha.
Andrew Black told BuzzFeed: 'I just love the triplets. I almost feel like they're my own. Every time I see them, they just bring me joy.'
Martha says that her daughter, Holden, is particularly close with Mr Rob, who she affectionately calls 'her boo.'
Martha believes it's because the two are both on the 'quiet side.'
Martha says that the bond between the triplets and their friends is a bond that is long lasting.
"One time, the babies were out back and they were naked swimming," the mom told Inside Edition. "They heard the truck, and they bolted out of the pool. "I had to race to put their clothes on!"