Jaxon Buell was born with a rare genetic disorder in which only half his head was formed.
Doctors feared that Jaxon would not survive the birth, let alone make it to one years old. But this miracle baby has defied all odds by not only making it to two, but by also saying his first words.
In a a truly heartwarming video, Jaxon can be seen telling his mother repeatedly 'I love you.' She rewards her beautiful son with kisses and snuggles.
Jaxon was born on Aug. 27, 2014, in Orlando, Florida. He has microhydranencephaly, an extreme brain malformation that left him with 80 percent of his brain missing.
Jaxon's parents, Brandon and Brittany Buell, have nicknamed him "Jaxon Strong" for his determination to live and thrive. 
The loving parents celebrate Jaxon's life every single day and try to make it as special as they can for him. 
Jaxon's situation is so unique that there is no prognosis. No one knows what tomorrow will bring for him.
Every now and again he suffers from seizures, otherwise he's very happy and smiling baby. 
Microhydranencephaly is a more complicated version of microcephaly, the birth defect linked to the Zika virus. 
In most microcephaly cases, the child's brain is there, it's intact, it's just on a smaller scale.
With Jaxon, the doctors believe his brain just stopped forming a few weeks into the pregnancy.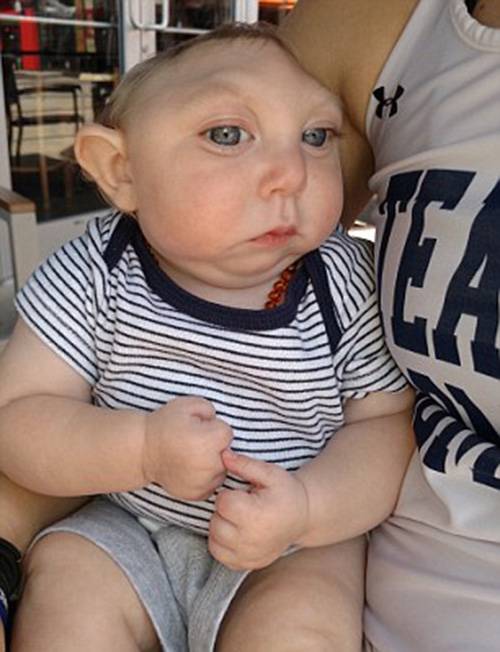 Doctors feared that Jaxon would not be able to hear, see or talk. But he has achieved these milestones.
The adorable little boy loves ice cream and enjoys avocado, carrots, squash. 
The Buells had set up a gofundme page to help pay for Jaxon's treatment and enable Brittany to stay at home with him.
Their initial target was $70,000 but they have now raised nearly $130,000.
Brittany and Brandon wrote on their crowdfunding page: 'Ultimately, Jaxon will need a miracle long-term. We continue to ask for support and prayers, as it is a blessing that his Mom continues to stay home with him for constant care.'
'Jaxon has already shown how strong, smart, and special he is, accomplishing feats that doctors doubted he'd ever be able to do, shows improvements each and every day.'
God Bless Jaxon!